June 2001
Snorkeling and beaches were the requirements for our family vacation this year. The kids had never been anywhere tropical and the thought of long, sunny days on a white sand beach rimmed in translucent turquoise intrigued them.
Tyler started investigating every possible option early on, as usual, but this time it was 2 weeks before departure before we knew exactly where we were going. Every Caribbean destination imaginable was considered, and Fiji was even in the running for a couple hours. At one point we had flights to Barbados but even with free flights, it was going to be mighty expensive.
Worry Free Vacations came to the rescue. This was one of those "last minute" vacation deals that we had never taken advantage of in the past. This time the wait paid off. We got an excellent deal on a charter flight and all-inclusive resort about an hour south of Cancun, what is known as the Mayan Riviera.
The flights were only $200 each and we left from Oklahoma City. What? Oklahoma City? Yes, it was a bit of a drive, but we left a day early and visited my sisterís family in Wichita for a day. It was also worth the cheap, direct flight. The only down side to this was that on the flight home we had to stop in San Antonio to go through customs and immigration because the airport in Oklahoma City doesnít have that capability. That touch down really added to the return time since itís only a three hour flight to begin with and the stop in San Antonio added at least an hour and a half.
This was the first international trip for the kids. We didnít have to get passports for them to go to Mexico, but since we didnít know where we were going until a couple weeks ahead of time, we had applied for them earlier. Staying at an all-inclusive resort with its wide variety of activities and endless buffets seemed like a good way to allow the kids some independence while also introducing them to a foreign culture. Granted, the foreignness of this resort was subtle, but they were exposed to the Spanish language, Mexican taxi drivers and pesos.
Landing in Cancun and passing through immigration and customs was a breeze. We quickly walked outside to see a man holding a "Worry Free Vacations" sign, told the man with the clipboard our name and were assigned a bus to the resort. This took maybe 10 minutes total for us to find our bus, load the luggage and be on our way. An hour later we were dropped off at the Barcelo resort.
| | |
| --- | --- |
| | |
| Our resort building | Erin and her stony friend |
Our room was small, but adequate. They already had the extra rollaway bed in the room when we got there. The maids did interesting towel sculptures if you tipped them. They rolled and folded extra towels into shapes of swans and turtles, decorated them with fresh flowers, and left them on our turned-down beds.
The buffets were the highlight of the trip. One child is a vegetarian and the other is a staunch meat-eater, but we didnít hear a complaint from either one of them. We generally ate at the buffets for breakfast and dinner. Lunch was at one of the grills on the beach, which featured hamburgers, hotdogs, nachos and soft-serve ice cream. All drinks were free as long as domestic alcohol was used. There were taps for beer and wine in all the buffets and slush machines for daiquiris and pina coladas at the bars. A bottle of rum sat next to the machine so you could add as much as you like. The drinks were nice, but since we were lying on the beach all day, we didnít abuse the privilege.
There are two ala carte restaurants at the resort and we could eat at each one only one time during the week. El Agave was a Mexican restaurant featuring regional grilled specialties. Don Quixote was a Spanish restaurant, which was a nice change of pace although the kids werenít as sure about some of the items there. I gave Ben one of my calamari rings, thinking he knew that it was squid. He didnít much care for the thought of a chewy tentacle in his mouth, but he got it down.
The beach was beautiful. It was about 2 miles long on a nice inlet, fine white sand and shimmering, warm turquoise waters. We were able to snorkel at a little reef in the swimming area or over by the boat dock. There were plenty of chairs on the beach and even a few palm trees to provide shade during the day.
Topless sunbathers were not unusual. Erin wasnít too impressed, but Ben never said a word about it.
A couple mornings we played tennis, but it is very, very hot there, even at 9:00 a.m. There was also a pitch and putt golf course as well as miniature golf and a putting green. Ben enjoyed the golf.
We did take a couple side-trips from the resort. One afternoon Tyler, Ben and I walked to Puerto Aventura, which is about 2 km from the resort entrance. It was hot and that walk took us about 50 minutes (because I just donít walk as fast as I used to, I guess). Puerto Aventura has a Dolphin Encounter program which is smack in the middle of the business area. It was interesting to watch the trainers feed the dolphins. We stopped for a drink (most expensive Corona Iíve had anywhere!) and took a taxi back to the resort.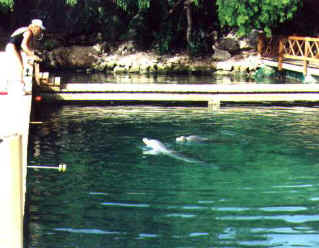 That night we took a taxi into Playa del Carmen to do some shopping. Erin said this was her favorite part of the vacation. I was there a few years ago and the atmosphere has really changed since then. Three years ago it was more market-like and you could bargain with the vendors. Now it is all souvenir shops and much less interesting. The kids got their shopping done and Ben got a black henna tattoo on his upper arm. The tattoos and braided hair were the big fads there this year. On the taxi ride back to the resort there was a roadside stop we had to make due to "taxi unions." Ben definitely was not very comfortable with this unexpected stop. It was short, though, and they didnít ask us to turn over our valuables.
Our final excursion was the high point of the trip. Maybe low point, depending on your viewpoint. Across the highway from the resort entrance were a number of cenotes. Cenotes are deep, freshwater pools. They are good places to snorkel and see stalagmites and different varieties of fish. I asked at the front desk of the resort whether this would be worth a visit. She was lukewarm about the trip, but didnít discourage me. She said the first one was about 25 pesos admittance fee and she didnít know about the others further down. Relaxing and pretty were how she described them.
We walked out the resort and across the highway to the first signóan idyllic depiction of azure blue pools with Mayan ruins rising out of the background. It said the cenote was 500 m ahead. We walked down an old dirt road into a jungle to find our spot in paradise. Along the way we heard laughing and splashing. We peered over a barbed wire fence and saw a dozen children and adults jumping into a clear blue pool of water. It looked great. Another sign directed us forward toward our own refreshing pool. We finally rounded a bend and came upon a very large (empty) parking lot and a little shack. A monkey with a collar was swinging from the trees outside. There was a sign right outside that mapped out not one, but four cenotes. There was also a wild animal park in the middle. Wow! This was great. How were we so lucky to come upon a place with four cenotes instead of one? It was also 100 pesos admittance instead of 25, but hey, with four times the funÖ
The proprietress spoke no English, but with my little Spanish I was able to talk her into letting the kids in for half price. That was the only good thing about this excursion, Iím afraid.
The first cenote was only a 1 minute walk into the jungle and down some rock stairs, into the mouth of a dark, dank caveÖcomplete with bats. There was a light oily film floating on the water and a few tiny black fish. It was like swimming in a flooded basement. No way were any of us going into that.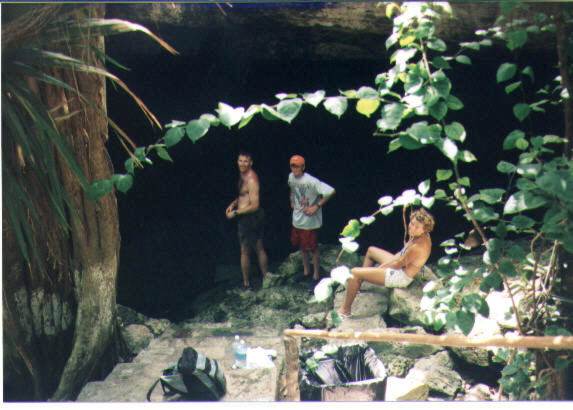 By this time the mosquitoes had located us and Erin and I couldnít slap dance fast enough. We had read that the cenotes required a biodegradable sunscreen and we had brought some with us. It was extremely greasy and we were very sweaty too. Iím surprised the mosquitoes could even land on me. We werenít sure if the tigers in the jungle would be attracted to us because we were basted in butter, or repelled by our unnatural shininess.
We did walk to the other three cenotes, each one as bad as the last. The wild animal park? It was a few local deer, a raccoon, ocelot, coati mundi and a couple monkeys.
So, we spent $30 to spend 20 minutes walking around some water filled caves and being eaten by mosquitoes. It was an adventure, though! This might be why the kids would rather hang out in the room and watch HBO.